Laser Therapy Brampton, Mississauga and Milton
Sheerwave Technologies
As a part of laser therapy, Sheerwave uses non-invasive and painless technology to safely tighten loose or lax skin.
Fat reduction radiof requency therapy helps with:
Cellulite reduction
Body contouring and shaping
Removal of excess fat
Improvement of elasticity and tone
General reduction of waist, abdomen and buttocks
Skin Rejuvenation radiofrequency therapy helps with pigmented and vascular irregularities leaving your skin firmer and looking younger.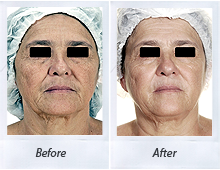 Clear + Brilliant
What Can Clear + Brilliant Do for You?
If you're battling the effects aging can have on your skin, or trying to address it before the battle even starts, Clear + Brilliant can help. With simple, gentle laser treatments provided by your licensed skincare professional, you can help prevent the visible signs of aging and the overall dulling effects time and the environment can have on your skin.
One 10 to 20-minute Clear + Brilliant session* can leave your skin feeling smoother, younger and give you that "radiant glow" that comes from healthy, youthful skin. Routine treatments deliver lasting results that can keep you looking younger for years to come.
Clear + Brilliant is simple yet effective. An easy treatment to add to your routine, much like the way you plan for a facial or trip to the hair salon.