Still Dealing With Stubborn Fat? Try CoolSculpting Today.
Coolsculpting Brampton, by Astra Healthcare. We are pleased to offer the CoolSculpting fat reduction procedure to our valued customers in Brampton, Mississauga and Milton areas. With years of experience in melting the stubborn fat, our doctors and staff will support you every step of the way, making sure that you feel comfortable and achieve the desired results. The treatment can help eliminate the fat from many areas of the body, including:
Abdomen
Thighs
Flanks/Sides
Chin
Trust one of the top fat-freezing experts, proudly offering weight loss and fat reduction solutions.
CoolSculpting and Your Safety
Located in Brampton, Ontario, Astra Healthcare medical spa is one of the few, true fat-freezing experts, and is a Certified Practice, certified by ZELTIQ, the original CoolSculpting equipment manufacturer. It means that you are in good hands and will be treated by top professionals. Join hundreds happy clients from Toronto, Brampton, Mississauga, and Milton. Our experts participate in many events and safety training to ensure that you get the most desirable results.
What is CoolSculpting?
The CoolSculpting fat-freezing procedure is the only FDA-cleared, non-surgical fat-reduction treatment that uses controlled cooling to eliminate stubborn fat that resists all efforts through diet and exercise. The results are proven, noticeable, and lasting—so you'll look great from every angle.
CoolSculpting Freezes and Eliminates Stubborn Fat.
The procedure safely delivers precisely controlled cooling to gently and effectively target the fat cells underneath the skin. Treated fat cells are crystallized (frozen), then die. Over time, your body naturally processes the fat and eliminates these dead cells, leaving a more sculpted you.
How Does it Work?
This video that shows you exactly how the CoolSculpting procedure works to eliminate the stubborn fat, fast.
What Real Patients Say
Real testimonials from real people. Book an appointment today and learn how the CoolSculpting fat freezing procedure can help you look and feel your best.
HOW LONG IS EACH TREATMENT? HOW MANY TREATMENTS WILL I NEED
Your CoolSculpting physician will help you create an individualized treatment plan tailored to your specific goals. The length of your CoolSculpting treatment will vary depending on the number of areas being treated during one visit. The latest technology of CoolSculpting can treat a patient in 35-60 minutes, some patients have more than one treatment during the same office visit. Some practices even have multiple CoolSculpting systems and applicators, so it's possible for a patient to have multiple areas treated at once. You and your provider may also schedule additional treatments or office visits in order to meet your goals.
I DON'T LIKE MY DOUBLE CHIN. CAN THE COOLSCULPTING PROCEDURE HELP ME LOSE IT?
Yes! The CoolSculpting procedure can treat visible fat bulges under the chin and contour the neck. Freezing away fat from a double chin is as easy and tolerable as using the CoolSculpting procedure in other parts of the body (e.g., abdomen, flank/side, thighs). With CoolSculpting treatment for a double chin, patients see results after just 1 to 2 visits. And with no surgery, no needles, and no downtime.
Double Chin Before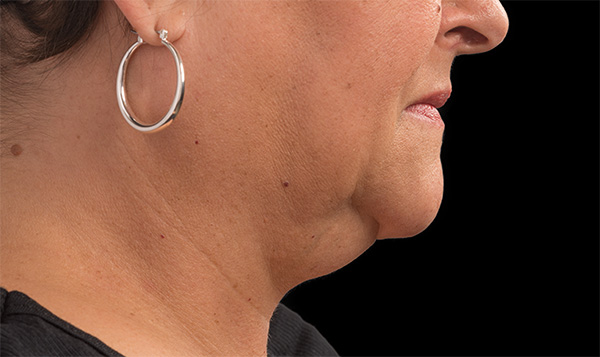 Double Chin After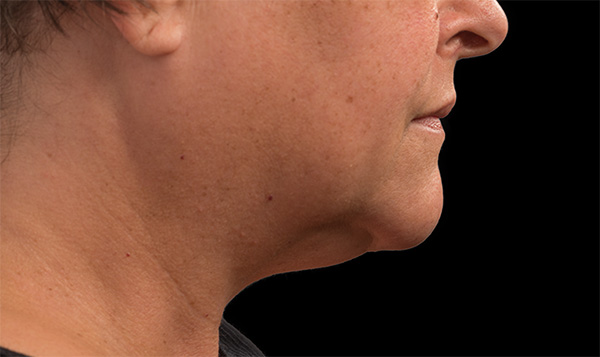 Mississauga, Brampton and Milton residents can now schedule a free consultation with the CoolSculpting experts.
New Brampton Location to Serve You Better
We are exited to add a second location to make it convenient for you.
Please visit us at Astra Medispa, at:
210 Main Street, North
Brampton, Ontario
​L6S 1J6
Call Today to Book an Appointment
or text: (647) 300-4795
Disclaimer: Individual results may vary.